Wavetrac® Differentials now available at West Coast Differentials!
Wavetrac Limited-Slip differentials are available for Ford 8.8″ 31-spline, Ford 9″ 31 and 35 spline, MB215 (Chrysler SRT8, 300C) and C5/C6 Corvette (Getrag). Many other applications are also available, primarily for imports like BMW and Mercedes. These high-performance differentials are 100% Made in USA and come with a transferrable limited Lifetime Warranty. For details and pricing, contact our differential parts experts at (800)665-0950. We're here to help!
View the complete Wavetrac® Differential Application Guide
About Wavetrac®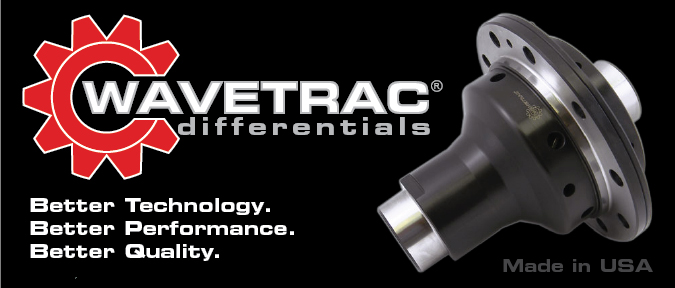 View the complete Wavetrac® Differential Application Guide
About Our Company
Focus
Our specialty is Differential, Gear and Axle parts – That's all we do!  This focus has allowed our parts and tech team to become experts in their field. At West Coast Differentials, we take pride in what we do. We are a family owned and operated business with a single location in Northern California. We service the nation from that location.
We are technical advisors and problem solvers, not just order takers. As of 2023, our parts specialists have more 90 years of combined experience.
What we Don't Do
We only sell differential and axle internal parts for rear-wheel and four-wheel drive vehicles. We don't sell parts for front wheel drive vehicles or transaxles. We don't sell housings or brake parts. We don't sell steering parts like rack and pinions or tie rod ends.
Our Goal
Our goal is to provide the highest quality parts and customer service in the business. We don't sell parts online because we want to make sure you get the correct parts in the shortest possible time. Sales are conducted over the phone and our advice and expertise is free of charge. We will provide you with the best possible solution to fit your performance needs and budget. Our everyday prices are always fair, and we don't try to lure customers in with loss leader promotions.
Benefits
Orders placed before 4PM Pacific Standard time are almost always shipped out the SAME DAY that you order, with the exception of special order or non-stock parts.
Returns, credits and exchanges are handled quickly, because we know it's frustrating to wait for these transactions. We don't want to keep your money tied up any longer than is absolutely necessary.
If you're looking for a reliable source for gear and axle parts, give us a try! We think you'll be glad you did.
 

At West Coast Differentials, We Make the Difference!
Contact Us
For inquiries about our products and services, please fill out the form below. We look forward to serving you!